Over the hills and far away (the Led Zeppelin side)
|
home




A Saucerful Of Secrets

A Saucerful of Secrets
Release date: July 1, 1968
Highest Chart Position: US - | UK 9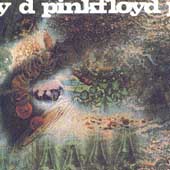 --------------------------------------------------------------------------------
The only album to feature all five members of Pink Floyd's history, A Saucerful of Secrets is a transitional work that marked a departure from psychedelic pop for the group and earned them a cult following in the United States where they were previously unsuccessful.
Saucerful also marks Syd Barrett's final works for Pink Floyd due to his declining mental state which was greatly hurting Pink Floyd's career and would be the cause of his forced departure from the band. His sole composition to make it to the album, 'Jugband Blues' in which he invited members of a Salvation Army band who were also performing at Abby Road to play anything they wanted without any instruction, sadly tells the story of his venture into schizophrenia almost as if he were aware of his own nervous breakdown. Syd also composed two other songs for the album "Vegetable Man," a demented sing-along tune, and "Scream Your Last Scream," both of which were removed (Barrett's only unrealsed Pink Floyd numbers) from the album because they were too dark and creepy. Gone but not forgotten, Syd would later become the source for much inspiration throughout the history of Pink Floyd.
It was during Syd's decline that the bands other members decided to bring in David Gilmour, to play guitar. Eventually developing a sound that would later be symbolic of Pink Floyd, Gilmour's work on Saucerful is minimal and he was paid a flat fee for his performance and a quarter share of the publishing rights to the albums title track.
The title track to the album was "written" in an architectural diagram drawn by bassist Roger Waters and drummer Nick Mason so that the music could be played around the "peaks and troughs" of the art. This kind of experimentation can be found throughout Pink Floyd's history.
Another first for Saucerful is that it was the first album to feature the creator of the extraordinary images associated with the band, Storm Thorgerson of Hipnosis on sleeve design.
Produced By:
Norman Smith
Recorded At:
EMI Studios, Abbey Road
Remastered(CD release) By:
Doug Sax - The Mastering Lab,LA
Original Sleeve Design:
Hipnosis
Remastering For CD Supervised By:
James Guthrie
Remastered Sleeve Design And Photography
Storm Thorgerson
Peter Curzon
Album Tracks:
Let There Be More Light
Time: 5:34 | Written By: Waters
Vocals By: Roger Waters and Rick Wright
Remember A Day
Time: 4:23 | Written By: Wright
Vocals By: Rick Wright
Set The Controls For The Heart Of The Sun
Time: 5:18 | Written By: Waters
Vocals By: Roger Waters
Corporal Clegg
Time: 4:06 | Written By: Waters
Vocals By: Roger Waters and David Gilmour
A Saucerful Of Secrets
Parts:
a. Something Else [0:00-3:59]
b. Syncopated Pandemonium [3:59-7:15]
c. Storm Signal [7:15-10:14]
d. Celestial Voices [10:14-11:50]
Time: 11:50 | Written By: Waters, Wright, Mason, Gilmour
Vocals By: David Gilmour
See-Saw
Time: 4:30 | Written By: Wright
Vocals By: Rick Wright
Jugband Blues
Time: 3:01 | Written By: Barrett
Vocals By: Syd Barrett
"Dave was broght in because we knew he could sing and we knew he could play the guitar, which was what we badly needed. he was also someone we could get on with.' -Nick Mason
'I don't think they - the rest of the band -had fixed ideas of what I should do or how I should do it. I mean I just played rhythm to help it along. For a good six months, maybe more, I didn't do a single thing. I was pretty paranoid.' -David Gilmour
"Y'see, even at that point, Syd actually knew what was happening to him...'Jug Band Blues' is the ultimate self diagnosis of a state of schizophernia." -Peter Jenner