Over the hills and far away (the Led Zeppelin side)
|
home




Atom heart mother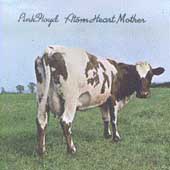 Release date: October 10th, 1970
Recorded at: EMI Studios, Abbey Road, London
Atom Heart Mother was Pink Floyd's first No. 1 record. Up to their ears in avant-garde experimental ideas, the Floyd teamed up with the electronic composer Ron Geesin to create the side-long title track, their most ambitious piece of work so far. By now the group were producing themselves.
Nick Mason: "It's an averagely recorded album but a very interesting idea, working with Ron Geesin, an orchestra and the Roger Aldiss choir. Roger and I were quite friendly with Ron. I think I met him through Robert Wyatt. The thing that Ron taught us most about was recording techniques, and tricks done on the cheap. We learned how to get round the men-in-white-coats and do things at home, like editing. Ron taught us how to use two tape recorders to create an endless build up of echo. It was all very relevant to things we did later. Now I listen to it with acute embarrassment because the backing track was put down by Roger and me, beginning to end, in one pass. Consequently the tempo goes up and down. It was a 20-minute piece and we just staggered through it. On the other side, Alan's Psychedelic Breakfast was another great idea -- gas fires popping, kettles boiling, that didn't really work on record but was great fun live. I've never heard Roger lay claim to it, which makes me think it must have been a group idea."
There is also the beautiful song "If" and "Alan's Psychedelic Breakfast", with great sound effects. The thing most people remember "Atom Heart" for these days is its spectacular cover, featuring nothing but cows.
David Gilmour: "At the time we felt Atom Heart Mother, like Ummagumma, was step towards something or other. Now I think they were both just a blundering about in the dark."
The title track is embellished with horns and a choir. It is split into six different, named parts, although there is some controversy over where each section starts and ends. The two versions currently accepted are described below. Most of the divisions are marked by a return to the main theme of the piece, played by the group and the orchestra. Stanley Kubrick wanted "free rein" to use music from "Atom Heart Mother" in his film "A Clockwork Orange." The band didn't agree.
The album was named during the sessions for the BBC radio show, when the title track needed a name, and Ron Geesin suggested to Roger Waters that he'd look through The Evening Standard and see if he could find a title in there. The paper carried an article about a pregnant woman with a pacemaker, headlined ATOM HEART MOTHER, and the rest (as they say) is history. During this song, there are two voices that can be clearly heard:

17:28 - "Here is a loud announcement"

19:08 - "Silence in the studio!"
Alan, from "Alan's Psychedelic Breakfast" is Alan Stiles, a roadie of Floyd's back then. It's his voice you hear on the track. The kitchen sounds were recorded in Nick Mason's kitchen. The band was never very happy with this piece, which might explain why it was performed live only a few times. During the live performances the band was served tea on stage. Early British pressings of the album had the sound of the water dripping from the tap continue into the trail-off groove in the record, allowing some turntables to play dripping water forever (or until someone turns it off, whichever came first). Alan Stiles can be seen on the back cover of Ummagumma.
The cow on the album cover is Lulubelle III. The cow-cover came to be because the band wanted a cover that was as ordinary and un-psychedelic as possible.
Nick Mason:"Atom Heart Mother was very rushed. The LP could have been better."
| | | |
| --- | --- | --- |
| Song | Writer(s) | Time |
| Atom Hear Mother [part a-f] | Mason,Gilmour, Waters, Gessin | 23:45 |
| If | Waters | 04:31 |
| Summer '68 | Wright | 05:29 |
| Fat Old Sun | Gilmour | 05:24 |
| Alan's Psychedelic Breakfast [parts a-c] | Waters, Mason, Gilmour, Wright | 13:01 |