Over the hills and far away (the Led Zeppelin side)
|
home




The Dark side of the moon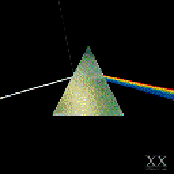 One of Britain's most successful and long lived avante-garde rock bands, Pink Floyd emerged relatively unsullied from the mire of mid-Sixties British psychedelic music as early experimenters with outer space concepts. Although that phase of the band's development was of short duration, Pink Floyd have from that time been the pop scene's preeminent techno-rockers: four musicians with a command of electronic instruments who wield an arsenal of sound effects with authority and finesse. While Pink Floyd's albums were hardly hot tickets in the shops, they began to attract an enormous following through their US tours. They have more recently developed a musical style capable of sustaining their dazzling and potentially overwhelming sonic wizzardry. The Dark Side of the Moon is Pink Floyd's ninth album and is a single extended piece rather than a collection of songs. It seems to deal primarily with the fleetingness and depravity of human life, hardly the commonplace subject matter of rock.
"Time" ("The time is gone the song is over"), "Money" ("Share it fairly but don't take a slice of my pie"), and "Us And Them" ("Forward he cried from the rear") might be viewed as keys to understanding the meaning (if indeed there is any definite meaning) of The Dark Side of the Moon. Even though this is a concept album, a number of the cuts can stand on their own. "Time" is a fine country-tinged rocker with a powerful guitar solo by David Gilmour and "Money" is broadly and satirically played with appropriately raunchy sax playing by Dick Parry, who also contributes a wonderfully-sated, breathy solo to "Us And Them". The non-vocal "On The Run" is a standout with footsteps racing from side to side successfully eluding any number of odd malevolent rumbles and explosions only to be killed off by the clock's ticking that leads into "Time". Throughout the album the band lays down a solid framework which they embellish with synthesizers, sound effects and spoken voice tapes. The sound is lush and multi-layered while remaining clear and well-structured. There are a few weak spots. David Gilmour's vocals are sometimes weak and lackluster and "The Great Gig in the Sky" (which closes the first side) probably could have been shortened or dispensed with, but these are really minor quibbles.
The Dark Side of the Moon is a fine album with a textural and conceptual richness that not only invites, but demands involvement. There is a certain grandeur here that exceeds mere musical melodramatics and is rarely attempted in rock. The Dark Side of the Moon has flash -- the true flash that comes from the excellence of a superbperformance.
Loyd Grossman, Rolling Stone, 5-24-73.
By condensing the sonic explorations of Meddle to actual songs and adding a lush, immaculate production to their trippiest instrumental sections, Pink Floyd inadvertently designed their commercial breakthrough with Dark Side of the Moon. The primary revelation of Dark Side of the Moon is what a little focus does for the band. Roger Waters wrote a series of songs about mundane, everyday details which aren't that impressive by themselves, but when given the sonic backdrop of Floyd's slow, atmospheric soundscapes and carefully placed sound effects, they achieve an emotional resonance. But what gives the album true power is the subtly textured music, which evolves from ponderous, neo-psychedelic art-rock to jazz fusion and blues-rock before turning back to psychedelia. It's dense with detail, but leisurely paced, creating its own dark, haunting world. Pink Floyd may have better albums than Dark Side of the Moon, but no other record defines them quite as well as this one.
The future began here. Recorded at Abbey Road on the new 16-track desk, seamlessly constructed and employing a thematic 'concept' to link the songs, Dark Side was the album which swiftly projected the Floyd from cult band to cornerstones of rock culture. A Quadrophonic mix by Alan Parsons, authorised by EMI and launched at the London Planetarium, caused a rumpus, with the band refusing to attend. This aside, the album was a huge success, and is still their biggest in commercial terms, with 28m copies sold worldwide.
It seems rather appropriate that "Dark Side" was EMI's first rock CD release. If there was a prime candidate for the new digital medium, then this was it. Inevitably, the release of "Dark Side" on CD helped give the album a new lease of life. Its success was 80 great--legend has it that there was an EMI factory which did nothing but churn out "Dark Side" CDs--that it enabled the album's U.S. chart run to top 730 weeks.
It is the fourth best seller rock album of all time - just behind "Thriller", "Saturday Night Fever Soundtrack" and Fleetwood Mac's "Rumors". It stayed on Billboard's top 200 album chart until April 23, 1988, and after that they changed the format so that once an album dropped off, it could not return. It stayed there for 723 weeks, the longest of any album, ever.
Nick Mason: "Dark Side started as a sequence called Eclipse. Most of it was developed in rehearsals for live shows, and we played it live at the Rainbow in London and opened shows with it in America in 1972. The concept grew out of group discussions about the pressures of real life, like travel or money, but then Roger broadened it into a meditation on the causes of insanity. The linking of all the sounds and the voices was very well done, I think, and we introduced an early synthesizer, the VCS3, right at the end. The recording was lengthly but not fraught, not agonised over at all. We were working really well as a band, But it wasn't only the music that made it such a success. EMI/Capitol had cleaned up their act in America. They put money behind promoting us for the first time. And that changed everything."
David Gilmour: "The big difference for me with this album was the fact that we'd played it live before we recorded it. You could't do that now of course, you'd be bootlegged out of existence. But when we went into the studio we all knew the material. The playing was very good. It had a natural feel. And it was a bloody good package. The music, the concept, the cover, all came together. For me it was the first time we'd had great lyrics. The others were satisfactory, or perfunctory or just plain bad. On Dark Side, Roger decided he didn't want anyone else writing lyrics."
As a side note, it is rumoured that initial U.K CDs were mastered not from the original tapes, but from second-generation copies. The story among Floyd buffs is that Dave Gilmour discovered this and ordered a shame-faced EMI to rectify this situation straight away.
| | | |
| --- | --- | --- |
| Song | Writer(s) | Time |
| Speak To Me | Mason | 01:10 |
| Breathe | Waters, Gilmour, Wright | 02:47 |
| On The Run | Gilmour, Waters | 03:51 |
| Time | Mason, Waters, Wright, Gilmour | 05:54 |
| Breathe Reprise | Waters, Gilmour, Wright | 01:11 |
| The Great Gig in the Sky | Wright | 04:47 |
| Money | Waters | 06:23 |
| Us and Them | Waters, Wright | 07:48 |
| Any Colour You Like | Gilmour, Mason, Wright | 03:25 |
| Brain Damage | Waters | 03:50 |
| Eclispe | Waters | 02:06 |