Over the hills and far away (the Led Zeppelin side)
|
home




David gilmore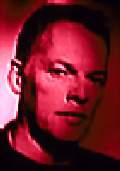 David Jon Gilmour was born on 6th March, 1946, in Grantchester Meadows, Cambridge. He is the youngest Pink Floyd member. As the lead guitarist of Pink Floyd, he's one of rock's most distinctive players with his use of echoes, delays, and distorted sustain. He joined the band in '68 - after he already had established a reputation as a guitarist and vocalist in the group "The Jokers Wild" - in order to "support" the ailing Syd Barrett (the idea was, according to Roger Waters, to let Syd carry on writing songs, but have Dave actually do Syd's part live), but Syd was to soon leave and so Dave took over as lead guitarist, and also took over some of the singing.
Right up to The Dark Side of The Moon, Dave was also writing his own songs, but from there to The Final Cut, Roger Waters took over in the Lyrics department. Dave, released, perhaps reluctantly of this responsibility, did make up for it by producing some excellent Guitar, and production work on all those albums, most notably Shine On You Crazy Diamond (from Wish You Were Here) and Comfortably Numb(from The Wall). He also did a large amount of the vocals, and it can be argued that he's probably got the best singing voice in the band.
His solo efforts have done well, with his self-titled debut reaching #29 and followup About Face hitting #32 on the charts.
After Roger Waters decided to officially leave the group, Nick Mason and Dave subsequently decided to record an album under the Pink Floyd name. Waters, who thought the name best layed to rest, sued them over its use. The two parties eventually reached a settlement before the matter ever reached court.
Meanwhile, Pink Floyd did NOT die. Their first post-Waters release, A Momentary Lapse of Reason went on to become a major success. In 1995, several years off, the group released The Division Bell, followed by a live recording from this tour, their most recent release, Pulse.
In the early 90's Gilmour divorced his wife Ginger. He now lives with his girlfriend Polly Samson, a journalist who also contributed with some of The Division Bell's lyrics. He is a neighbour to his friend and band mate Nick Mason in Maida Vale, London and has a fully equipped recording studio, The Astoria, on his houseboat on Thames. He also enjoys flying his planes and owns the Intrepid Aviation Company collection of classic aircraft.