Over the hills and far away (the Led Zeppelin side)
|
home




Roger waters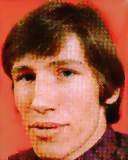 George Roger Waters was born on 6th September, 1943, in Great Bookham, Cambridge. He attended the Cambridge High School For Boys and, later on, the Regent Street Polytechnic, where he studied Architecture and met Nick Mason and Rick Wright.
A few artists showed a cloudy and depressed vision of
the modern society like him. Many of his songs are about the Second World War, where his father, Eric Fletcher Waters (to whom The Final Cut was dedicated) died during the British invasion of Anzio, Italy.
Roger Waters started playing in the group "The Abdabs" (1965), which later evoluted to Pink Floyd. After the absence of Syd Barrett, he gradually began to take more control over the Floyd's lyrics, until The Dark Side of The Moon, where all lyrics are
his. This vein continued through Wish You Were Here,
and Animals, until The Wall, where he began to take control over the music side of things too. For The Final Cut, its often been said that this is Roger with a few famous backing musicians, as the album is almost totally "his own work".
After The Final Cut, Roger left the band, and expected the others to do likewise, but was surprised to find them wanting to carry it on. In the mid 80s, he engaged in a protracted legal battle, arguing that the other members of Pink Floyd could not continue using the name without him in the band. A few law suits were involved, but resulted in Rog getting not as much as he expected.
He continued to pursue his solo career, with two quite successful solo ventures (The Pro's and Con's Of Hitch Hiking and Radio KAOS) and recently "revived" The Wall in Berlin for charity. He has done two collaboration pieces, one with Ron
Geesin (Music From The Body) which dates back to 1970, and one with various other artists, the film soundtrack to When The Wind Blows.
His most recent work, Amused to Death, was not the sales success it was hoped it would be, despite its commercial hype. This was to the great disappointment of many of his fans, who thought that Amused To Death was his best work yet. In 1999/2000 he went on a long United States tour and the results of it were In the Flesh, a double CD set, that was released in December, 2000, and a DVD to be released in 2001. He is currently working on a new solo album.