Over the hills and far away (the Led Zeppelin side)
|
home




Animals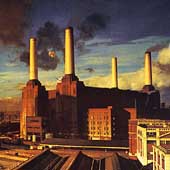 Time 41:39 minutes
Release date: January 23rd, 1977
Recorded at: Britannia Row Studios in Islington, London, from March to December, 1976
Charts: #2 in the UK; #3 in the US
Although "Animals" only contained three very long tracks bookended by the brief (and almost identical) acoustic love songs "Pigs On The Wing" Parts 1 and 2 (written by Waters for his new wife, Carolyne Christie, who is the niece of the Marquis of Zetland and a one time secretary to Pink Floyd producer Bob Ezrin), it didn't sound altogether out of place in 1977, the year of punk and disco music. At that time, the newer musicians like Johnny Rotten targeted progressive rock as being "lame" and "uncool", and Mr. Rotten made this point known by taking Pink Floyd T-Shirts and writing "I hate" over the logo. The music media had a very negative view of the band, although Pink Floyd's followers didn't stray from the band, because of the massive touring over the past few years as they didn't have strength to do anything about their image. The band spent 500,000 pounds on the latest in studio equpiment and were eager to put it to use.
Animals contained the group's most strident music to date and expressed a worldview that was both self-laceratingly ironic and (superficially, at least) nihilistic. Despite containing music that was very much harder than that found on any previous Floyd record, "Animals" notched up impressive sales.
What ended up as a great concept album didn't start that way, as two of the four beasts here had been heard before under different names: Sheep was a re-working of Raving And Drooling. Dogs was a makeover of You Gotta Be Crazy. The whole album is based on George Orwell's famous book "Animal Farm". Halfway through the album, Roger realized he could use George Orwell's concept of people as being animals, and paralleled them in our social lives. In Brandon Kyle Leniart's words, in the eyes of Waters, you are either a dog, pig or a sheep. Dogs are the crafty cutthroats who travel in groups, in a pecking order, each one trying to screw the other over to achieve success. Pigs are the overbearing dictators who have a great fear for what they don't understand, but claim to know what is best for everyone. They impose this on the sheep, who are the meek and obediant subserviants to the world. They realize what has become of them and revolt, but are eventually put back in their place and taken advantage of again. It's human nature in a graphic display of our true inner selves, represented in animal form.
Roger Waters: "I was trying to push the band into more specific areas of subject matter, trying to be more direct. Visually, I was trying to get away from the blobs...there isn't much left for you to interpret."
Waters and Gilmour were beginning to tussle for control, sharing production credits and engaging in a lengthy wrangle over the album's publishing royalties which wasn't settled for 10 years.
David Gilmour: "On Animals I was the prime musical force. Roger was the motivator and lyric writer."
Nick Mason: "This was a bit of a return to the group feel, quite a cheerful session as I remember. We did it in our own studio, which we'd just built. By now Roger was in full flow with the ideas, but he was also really kepping Dave down, and frustrating him deliberately."
Rick Wright: "I didn't like a lot of the writing on Animals, but unfortunately I didn't have anything to offer. I think I played well but I remember feeling not very happy or creative, partly because of problems with my marriage. This was the beginning of my writer's block."
David Gilmour: "I basically wrote all the chords [on "Dogs"] --the main music part of it. And we wrote some other bits together at the end. [I played] a custom Telecaster. I was coming through some Hiwatt amps and a couple of Yamaha rotating speaker cabinets--Leslie style cabinets that they used to make. I used to use two of those on stage along with the regular amps. That slight Leslie effect made a big difference in the sound." (from a Guitar World interview)
The cover of "Animals", designed by Roger Waters and Hipgnosis (Storm Thorgerson and Aubrey Powell) featured a pig, symbolizing greediness, according to Waters, and the Gilbert Scott's Battersea Power Station. The cover is actually a combination of two photographs -- the dismal power station from one day, and the floating pig from the day it flew away -- one day it simply wouldn't float; the next day it floated too well, broking away from its morring and reached a height of nearly 10,000 feet before headind back down to Earth, scaring quite a few pilots in the process. Radar contact diminished after 18,000 feet, and it finally crashed to the ground and was recovered and sent back for more photos.
| | | |
| --- | --- | --- |
| Song | Writer(s) | Time |
| Pigs on the Wing [part 1] | Waters | 01:25 |
| Dogs | Waters, Gilmour | 17:03 |
| Pigs(Three Different Ones) | Waters | 11:25 |
| Sheep | Waters | 10:25 |
| Pigs on the Wing[part 2] | Waters | 01:23 |