Over the hills and far away (the Led Zeppelin side)
|
home




The Division Bell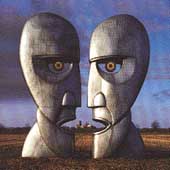 Release date: March 30th, 1994
Recorded at: Astoria, Britannia Row, Abbey Road, Metropolis and The Creek Studios.
The brand new back-to-basics album, which took a year to record on and off Gilmour's boat, painstakingly attempts to re-constitute the group as something more than a one-man brand name with a famous repertoire. While not breaking any significant new ground musically, the sound here is more cohesive and delicately textured than anything the Floyd have recorded since the glory days of the 1970s. The tone is quieter, the guitar playing features Gilmour in lyrical, rather than screaming, mode. Wright, now a junior partner rather than paid employee, is heard more clearly here than he has been for the last 15 years. Gilmour's search for a lyricist has ended for the time being, with many tracks co-written by his new-ish girlfriend, journalist Polly Samson. Bob Ezrin has again helped out with the production.
Nick Mason: "There's more of the feel of Meddle here than anything else. This started as a group album, with the three of us spending a fortnight together just jamming. We put down over 40 sketches in two weeks, then things moved on. Some of those initial ideas might actually end up on a satellite album."
Rick Wright: "I've written on it. I'm singing on it. I think it's a much better album than the last one. it's got more of the old Floydian feel. I think we could have gone further, but we are now operating as a band. Only Nick has played the drums, and my Hammond organ is back on most tracks."
David Gilmour: "On this album both Nick and Rick are playing all the stuff that they should be playing. Which is why it sounds much more like a genuine Pink Floyd record to me than anything since Wish You Were Here. It has a sort of theme about non-communication, but we're not trying to bash anybody over the head with it. We went out last time with the intention of showing the world, Look we're still here, which is why we were so loud and crash bang-y. This is a much more reflective album."
| | | |
| --- | --- | --- |
| Song | Writer(s) | Time |
| Cluster One | Wright, Gilmour | 05:58 |
| What Do You Want From Me | Gilmour, Wright, Samson | 04:21 |
| Poles Apart | Gilmour, Samson, Laird-Clwes | 07:04 |
| Marooned | Wright, Gilmour | 05:28 |
| A Great Day for Freedom | Gilmour, Samson | 04:17 |
| Wearing the Inside Out | Wright, Moore | 05:28 |
| Take it Back | Gilmour, Ezrin, Samson, Laird-Clowes | 06:12 |
| Coming Back to Life | Gilmour | 06:19 |
| Keep Talking | Gilmour, Wright, Samson | 06:09 |
| Lost for Words | Gilmour, Samson | 05:14 |
| High Hopes | Gilmour, Samson | 08:31 |